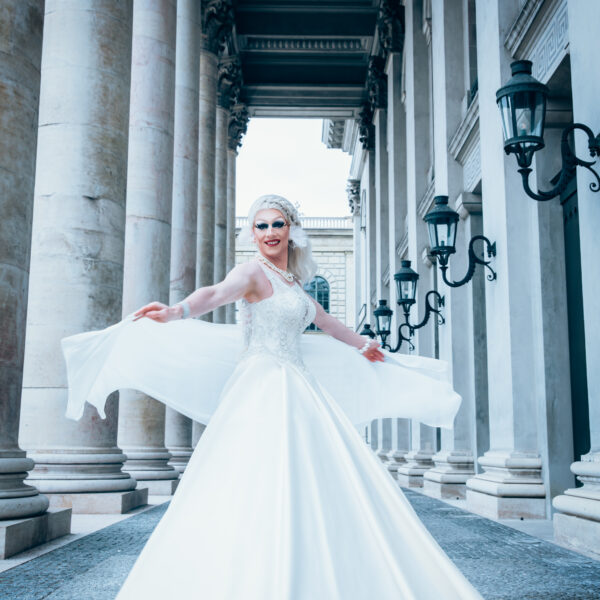 MY

STORY with …
VICKY

33 Years, Munich
"Over the years, Drag became a bigger and bigger part of myself, its not only an art form to me, but also a way for playful confrontation with my personality..."
Published: October 2022
A VOYAGE IN DRAG.

Vicky Voyage is always worth a trip.
With my drag persona Vicky Voyage, I take you on a varied joyride into the world of drag art. With charisma and wit I present as an international performer, moderator and entertainer I use thoughtful clever concepts with both extravagant outfits and strong make-up. I serve a wide variety of eye candy at my stops: among others, I was on the road as a fulminant fire fairy (CSD Munich 2018), as a dazzling butterfly (CSD Munich and Vienna 2019), legendary snow queen (Drag Voyage calendar project 2022) and also as a loving local heroine in Dirndl (at various events). At galas and parties, in shows and in the theater: with pole dancing, a touch of acrobatics or just with my "plump" presence, I invite the audience to marvel.
Over the years Drag became a bigger and bigger part of me, which for me is not only an art form, but also allows the playful confrontation with my personality.
After the pandemic – following many different events – nearly brought the world to a complete standstill, I came up with the idea for Germany's first professional drag calendar during the lockdown period. Performances were not possible, projects fell away – a new one was needed. Since the drag scene has also developed in Germany, I wanted to give a little insight into the facets of different characters and, together with other artists, take you on a journey through the wonderful world of drag. Discover fabulous Kings & Queens from Munich and Augsburg, and how they play with more diverse and colorful art, always guided by the question: What does drag mean to the artists, what does it mean to you?
With the picture you see, the motif for December 2022, I wanted to express something very specific. My theme was:
#legendary: I write my own story and walk my own path – preferably in high heels.
Based on Cinderella, the image is meant to illustrate that I don't have to wait for my prince until I can have a fulfilled life, but that as a strong personality I can choose and shape my own path and be responsible for my own happiness in the process.
For the sale of the calendar, I have not only set up my own web store, but have also worked with various retailers who have distributed the calendar throughout Germany and also in Austria and Switzerland. Although the product "calendar" in 2022 is no longer found in every household and the drag motifs do not appeal to all people equally, the calendar with our personal and expressive images was well received across society. Almost all 1,000 copies were sold or dedicated to social projects. It was a great new experience and the whole team can be proud of the result. Here again a big thank you to everyone who worked so motivated and contributed to the successful final result.
Since I hope that the Corona situation will improve and more opportunities will be allowed again, I will devote myself in 2022 and also the next years as an entertainer, presenter, performer or even organizer again strengthened events, for example, the CSD in Munich may not be missed or a drag show in my Allgäu home, which is planned for 2023.
In addition, I would like to try in the future to combine my engineering background more with my art, because the journey of Vicky Voyage is far from over.
DEAR VICKY, THANK YOU VERY MUCH FOR

YOUR

STORY!