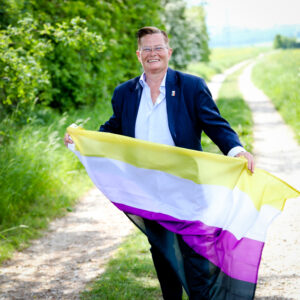 MY

STORY with …
Jay

53 Years, Einbeck
"My journey began with an end and a beginning, and this end made my truly new beginning as a non-binary person possible in the end. …"
Published: November 2022
A new beginning.
On March 6, 2020, the most unusual journey of my life so far began. It began with an end and a beginning, and this end made my truly new beginning as a non-binary person possible in the end. On that day, the love of my life ended with the death of my relationship person. I was infinitely grateful for the 23 years that I was allowed to spend with her, despite all prophecies of doom.
A love that seemed so unusual even to us lovers in the beginning that we asked ourselves at the time, "Can our relationship really work and go well?" We decided to take the risk. My great love was and remained until her death, married to her husband and had three children, who at the beginning of our relationship, were between 6 and 13 years old. She was 12 years older than me. We lived an unusual, publicly known, patchwork rainbow family relationship for 23 years. I miss her to this day.
Today, I am actually grateful for that void her absence has left in my life. I am also thankful that the Corona Lockdown that started shortly after her funeral turned me back on myself. With the absence of external distractions, I was able to use this time for inner gathering and my refocusing. On many lonely evenings on my balcony, I began to search for answers to life questions and to define new goals.
"Where should my path lead now?"
"How do I want to live?"
"What are my goals?"
I found more questions than answers at that time. I discovered within myself dungeons and locked doors, dark caves and buried shafts. What I lacked was light. The deeper I went, the less hope I had of finding answers on my own that could shed light on the darkness. I admitted to myself that I couldn't answer all the questions on my own, and I enlisted professional outside travel assistance in the form of coaching.
It quickly became apparent that I had been asking myself the right questions at the wrong time. By the end of 2020, I was still far too caught up in the social norms and conventions of heteronormativity around me and in my own inner beliefs. These thoughts and conventions were blocking my path to answers.
I wanted, no I had to try something new, like when I was on vacation in Canada. Every day at that time I had opted for the classic English breakfast. The Canadian breakfast of French toast (Poor Knights), crispy bacon and maple syrup seemed too absurd a combination. Bacon and maple syrup?! A white bread soaked with egg, instead of egg on the white bread and bacon extra on top. I could not imagine this combination of sweet and salty as delicious. One morning, this meal looked so delicious at the neighboring table that I dared to order and try it too. It was a revelation and a symbiosis of opposites that, combined like this, gave me a completely new, incredible taste experience. For this experience, it was necessary to ignore old ideas and concepts (like taste experiences).
My experiential process right before my non-binary coming out was very similar, but much more intimate. This process, too, was about reconciling opposites and exploring new territory. The phrases that went through my mind before making these decisions were, on the one hand, "Do I really dare?". What happens if it's an absurd experience?" and on the other, "I'm so excited! I can't wait!" I, (then still Judith – gender: female; gender identity: "butch"; sexual orientation: lesbian), boldly decided to try something completely new and unfamiliar, leaving old paths behind. With a curious beginner's mind, I embarked on a new experience.
I was gifted with answers to questions that have accompanied me my entire adult life. "Wer bin ich?" "Wer oder was ist meine Identität?" "Wieso fühle ich mich stets "zwischen den Stühlen" sitzend/stehend?" These questions have accompanied me for many years of my life.
In this experiential moment, I let go of my preconceived thoughts about gender and gender identities and freed myself from convention and propriety.
I let go of Judith, or in other words, Judith said goodbye, and in the same moment I was transformed into Jay.
As Jay (gender: diverse; gender identity: non-binary; sexual orientation: women loving), I felt whole and complete for the first time in my life. I realized that I now had a new name and a new gender. After 50 years, the search for my true identity ended in a truly new beginning; a new birth certificate even made this official very soon.
It was out of the question for me to make this inner transformation visible to the outside world as well. Sometimes bureaucratic mills grind fast, too. In February, I received a certificate from my family doctor, submitted an informal application for gender and name change with it to the registry office and promptly received an official appointment for the oral application.
It was on February 18, 2021, when I was handed my new birth certificate with new name and gender by the registrar of my town. I thus wrote Einbeck town history, as the first person with a diverse gender entry in the town's birth register. I am very grateful for all the experiences, for all the people who contributed to this moment. I would like to thank all the people for their appreciation, solidarity and joy shown to me during this coming out.
DEAR Jay, THANK YOU VERY MUCH FOR

YOUR

STORY!