RECAP
We were excited to welcome Wolfgang Link as a guest at our PROUT PERFORMER Lunch Talk on Wednesday, February 22, 2023.
Click here for the recording of the interview (German):
About Wolfgang: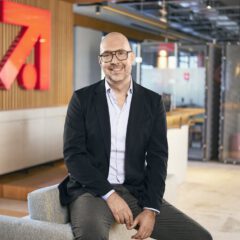 Wolfgang Link was appointed to the Executive Board of ProSiebenSat.1 Media SE in March 2020. He is responsible for all entertainment activities of ProSiebenSat.1 Media SE and is CEO of Seven.One Entertainment Group.
He joined the ProSiebenSat.1 Group in 2009 as Head of Entertainment at SAT.1, and was later responsible for all entertainment formats of the German station group as Senior Vice President, bringing "The Voice of Germany" to Germany, for example. From 2012 to 2016, he was Managing Director of ProSieben, became Managing Director of ProSiebenSat.1 TV Deutschland GmbH in October 2013 and took over as Chairman of the Executive Board shortly afterwards. In 2019, as co-CEO, he was responsible for merging the station brands, content, marketing and distribution operations under the umbrella of the Seven.One Entertainment Group, which will operate in 2020.
After studying communications, arts and psychology, Wolfgang Link initially worked for various musical and live productions. From 2003, as a producer and executive producer at Grundy Light Entertainment, he helped make the "Deutschland sucht den Superstar" format a success, among other things.