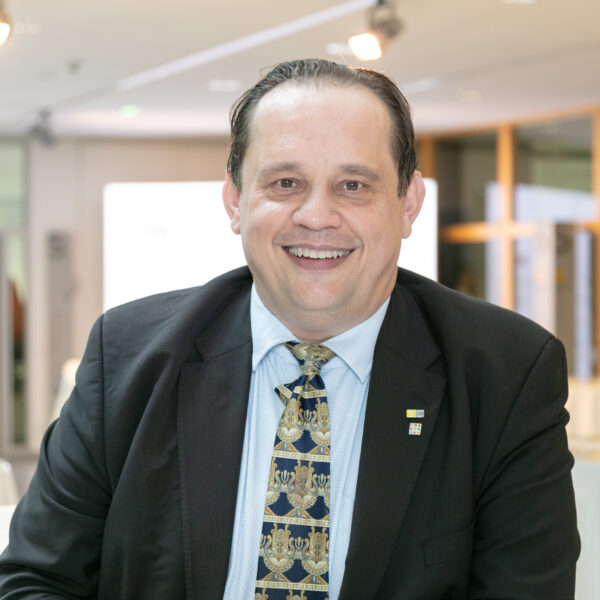 MY

STORY With …
Jean-Luc

55 Years, Frankfurt
"My parents and grandparents taught me that
belonging to a minority has a positive value
and is something to be proud of. …"
Published: May 2022
The Power of rooTs.
For me and my involvement in the LGBT*IQ community, my roots and my origin are very important . Since birth, I belong to a minority in France, as a Protestant in a very Catholic country. We Protestants represent about 2 million citizens, less than 3% of the French population. We are a strong community, very involved in society, politics, associations and economy.
My parents and grandparents taught me that belonging to a minority has a positive value and is something to be proud of. I also learned as a child that solidarity within and outside one's community is essential – and that one should help others who are suffering or rejected, no matter who they are.
Protestants have also been discriminated against in the past, especially in the 17th/18th centuries, just because of their faith. My family experienced this discrimination just like other Protestant families. For example, we were not allowed to bury our dead in the cemetery in the past, so every Protestant family had a small cemetery on their property. From such experiences, we know what discrimination feels like – and that explains why we Protestants helped many Jews during World War II, for example. So I learned that I have to stand up against any kind of discrimination in the whole society.
For generations, members of my family have been involved in the church and in local politics, for example. In the Lutheran Church, church affairs are decided and administered by a synod, a group of people made up of 50% clergy and 50% church members. My father was a member of our church's synod for over 20 years. My parents and grandparents were also very active in the unions. And I am the first in my family to help start a foundation, which they are very proud of.
I saw from a young age how important and rewarding it is to be socially involved, to have time for others, and that it is possible to make positive changes.
… About 23/24 years ago, I had my Coming Out and met the first big love of my life. This gave me a lot of strength and self-esteem, which brought about many changes in my life. I left the university world to start my career at Deutsche Bank – and also my social commitment.
Then, in 2000, I was lucky enough to be invited to the founding event of dbPride, Deutsche Bank's LGBT*IQ network – that was the beginning of everything!!!
From the beginning, more than 20 years ago, until today, my upbringing and roots have been the key and main driving force for my commitment to the LGBT*IQ community – and beyond … for a more respectful and tolerant society.
Dear JEan-Luc, Thank you very much for

Your

Story!